Did you know there are thousands of whites? Let alone thousands of colours! In order to get the right paint for you, we're going to need some information from you first, whether you require paint for a small scratch, large repair or even a full respray.
We generally require:
A paint code and manufactures details
A good sample
Please read below information for more details of what to bring. If in doubt please feel free to contact us.
This is your cars colour code and is usually some digits and numbers. It could be found in a few places: under the bonnet of the car, the door pillar (driver or passengers side), in the boot or perhaps in the service book (such as newer Volkswagens). Not all Manufacturers have a compliance plate which shows the paint colour, eg: Kia and Jeep – they often require you to ring their service department. They will ask you for the vehicle Vin number and they will give you the paint code.
Some examples of different compliance plates that contain your paint code:
Some other helpful information that we would like are:
PAINT NAME
(paint code is more important than this one)
MANUFACTURER
BUILD DATE
PLEASE BE AWARE:
Many variations of colour occur in production, so we may have to check your car colour against our variant colour swatches. If you can't drive the car down, try and bring a sample along with the paint code or photo(s) of the compliance plate(s)). The petrol flap is usually a good sample, if it is painted and easy to remove.
Due to modern manufacturing practices, cars are assembled and painted in different factories and in different Countries. With these slightly different practices or machinery, paint maybe applied slightly differently and as a result slight variations may occur especially with metallic and pearl colours. These variation may be lighter or darker however they should be within tolerance of the Master Colour. Unfortunately not all manufacturers stamp these variations on the compliance plate of each vehicle but rather the Master Colour.
Possible causes of Variations:
Batch to batch variations of colours
Change of supplier
Film thickness of colour
Air assisted application versus electrostatic application
Transparency of colour
Colour of primer surfacer
Viscocity
Number of coats
Types of solvent used
Manuel vs Automatic application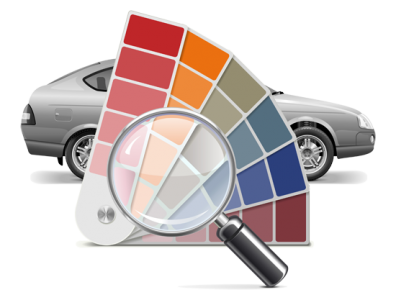 It is common to have at least three variations and quite common to have between seven and eight variations of colour. We have seen as many as fourteen variations of a colour using the same Paint code.
Painted colour chips showing the variants are expensive to produce and lower end paint suppliers do not have colour chips of the variants. It is very difficult to keep up with the Variants as they come through and production of the matching colour chips falls behind So another method of matching the paint colour is often needed. This is where a 'Specrometer' is used to identify a colour.
Be sure to bring us a nice flat sample, something like the size of a petrol flap and that way we have a good chance of matching your colour correctly. Simply put, the better the sample, the better the colour match. So before you start sanding or repairing or priming be sure to get your colour or at least talk to us to see if matching your colour will be a problem.